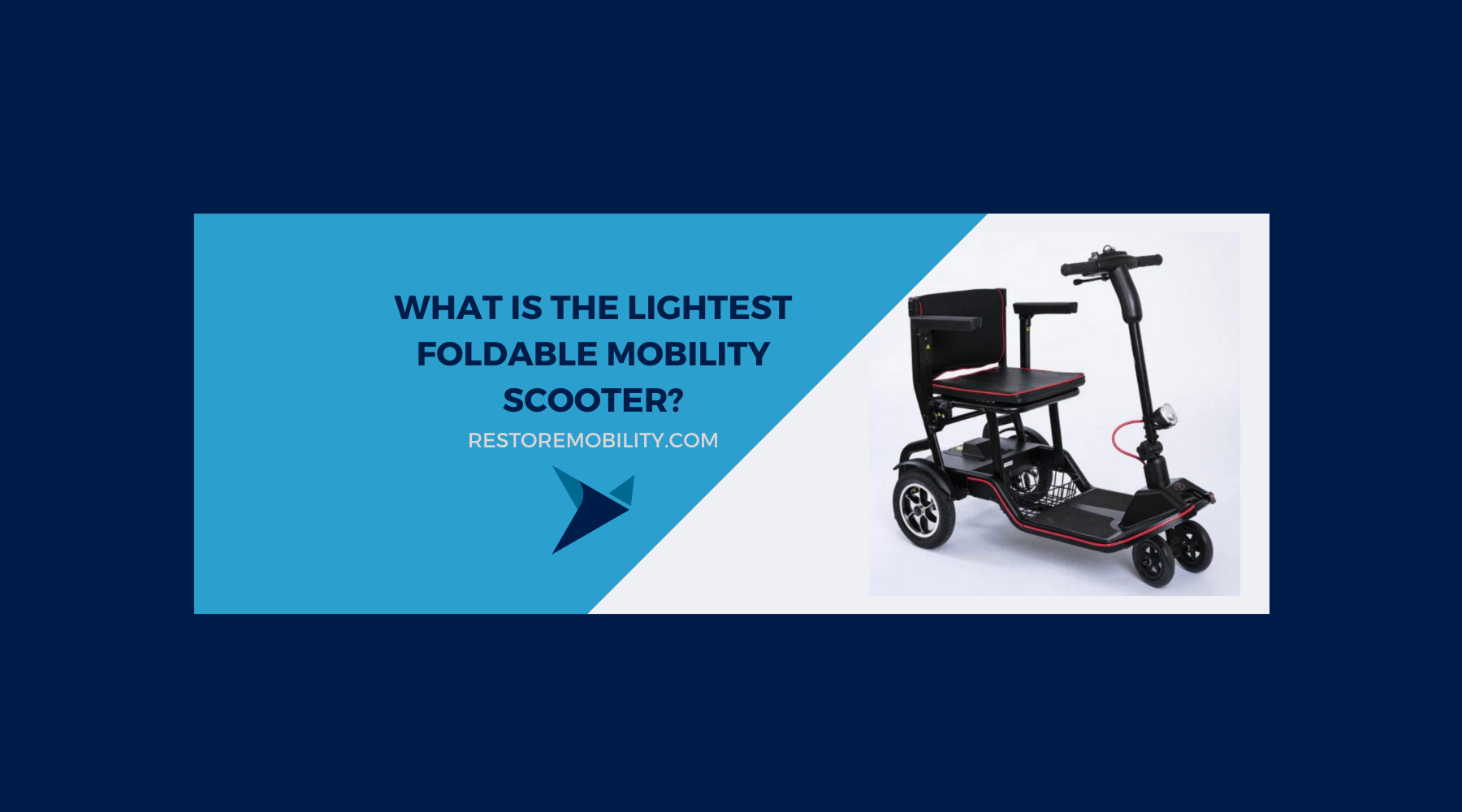 What is the Lightest Foldable Mobility Scooter?
Lightweight foldable mobility scooters offer a variety of advantages to users. Primarily, these scooters are easy to transport and store. Have you ever wondered which is the lightest folding mobility scooter? In this article, we will narrow it down to the top 5 options available on the market.
In general, lightweight foldable mobility scooters provide several benefits, such as ease of transportation, increased range and speed, and comfortable seating options. Due to these advantages, they are a practical choice for individuals requiring mobility assistance.
Comparison of Top Lightweight Foldable Mobility Scooters
The Featherweight Scooter is a competitive option in the lightweight foldable mobility scooter market. With a total weight of just 37 pounds, it offers ease of transport and use. This scooter is designed with an adjustable tiller, removable flip-up armrests, and can be folded up into one piece, making it easy to wheel around like a piece of luggage. Please keep in mind that 37 lbs is the weight after removing the battery, which clicks in and out of place very easily. Despite its light weight, it still offers adequate durability to support individuals who require mobility assistance.
CHECK FEATHERWEIGHT SCOOTER PRICE >>>
Not to be confused with the Featherweight Scooter by Feather Mobility, another contender is the Tzora Feather Scooter which disassembles into multiple pieces, with the heaviest piece weighing just 22 pounds. Keep in mind that although 22 lbs is the heaviest piece when taken apart, the entire scooter weighs about 41 lbs. This scooter prioritizes portability and is designed to be taken apart without the need for tools, making it an ideal choice for older adults with limited mobility.
CHECK TZORA FEATHER SCOOTER PRICE >>>
The Smartscoot Scooter is a modern-looking lightweight scooter weighing only 39.5 pounds. It features a stainless-steel frame which is both durable and relatively lightweight. This scooter can be broken down into three parts without using any tools, making it easy to transport. Additionally, the Smartscoot Scooter offers a very comfortable seat for users during their traveling experience.
With a weight of 40 pounds, the iLiving V8 Foldable Electric Mobility Scooter is one of the smallest lightest folding mobility scooters. This scooter is lightweight yet capable, featuring a wide seat and a USB charging port for added convenience. The iLiving V8 offers a balance of comfort and utility, making it an attractive choice for individuals seeking a lightweight foldable mobility scooter.
Lastly, the EV Rider Transport AF+ is a slightly heavier option at 49 pounds, but still qualifies as a lightweight, foldable mobility scooter. This scooter is fully electronic and can automatically fold and unfold within 15 seconds using a wireless key fob. It is equipped with flat-free, non-marking tires, ensuring a smooth and worry-free ride for users.
CHECK EV RIDER TRANSPORT AF+ PRICE >>>
Each of these lightweight foldable mobility scooters offers unique features and benefits to users. All of the options mentioned above prioritize portability, user-friendliness, and practicality, catering to the needs of individuals with limited mobility.
Factors to Consider When Choosing the Right Scooter
Budget Considerations
When selecting a lightweight foldable mobility scooter, it is important to consider your budget. There are various models available, which range in price from affordable to premium. Quality and features often correlate with the price, so make sure to balance your needs with your budget.
Ease of Transport
An essential aspect to consider is how easy it is to transport the scooter. Look for a model that easily fits in the trunk of your vehicle or can be carried on public transportation. Additionally, a scooter that is easy to disassemble and reassemble can also facilitate smooth transport.
Maneuverability
Maneuverability is crucial for navigating tight spaces and turns. Three-wheel scooters generally offer better maneuverability compared to four-wheel models, but stability might be compromised. Choose a scooter that suits your specific mobility needs and environment.
Weight
The weight of a mobility scooter can impact its portability and ease of use. Lighter scooters are easier to transport and maneuver, but may also be less durable. Always consider the scooter's weight in relation to your capacity to lift and transport it.
Foldability Mechanism
Foldability is a key feature for ease of transport. Ensure that the mobility scooter you select has a straightforward folding mechanism, ideally one that can be accomplished with minimal effort.
Battery Life
A scooter's battery life affects how far you can travel between charges. A longer-lasting battery is essential for maximizing independence and mobility. Look for scooters with highly efficient batteries that provide sufficient mileage for your requirements.
Weight Capacity
Consider the weight capacity of the scooter, as this directly impacts its ability to support the user. Always select a scooter that can comfortably and safely accommodate the user's weight.
Comfort and Ergonomics
Lastly, pay attention to the comfort and ergonomics of the scooter. Adjustable seating, handlebars, and suspension systems can make a significant difference in user experience. Prioritize features that enhance comfort during usage, especially for those with limited mobility or existing joint pain.
***Browse our entire folding scooter collection to find more excellent lightweight options!***